Head on down to LEGOLAND Discovery Centre, Melbourne❜s Bricktacular Indoor Playground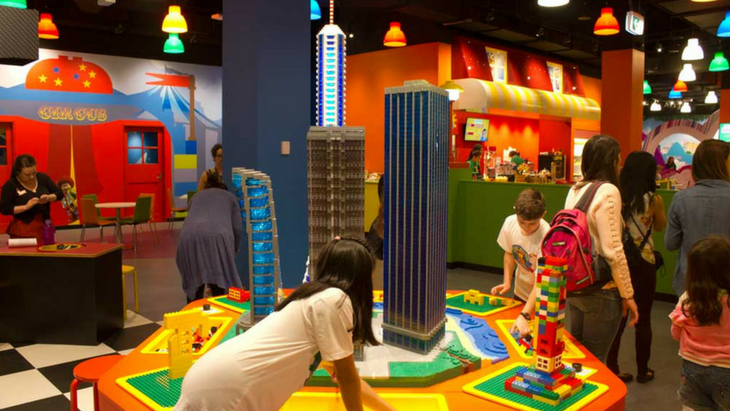 By: Stacey Roberts, ellaslist
If you've ever stepped over two million LEGO bricks strewn across the carpet at your place and thought to yourself "there's got to be a better way" - well now there is!
LEGOLAND Discovery Centre in Melbourne's Chadstone is a LEGO-lover's dream come true. The first LEGOLAND Discovery Centre in the Southern Hemisphere, it's a cornucopia of those ultra-recognisable LEGO colours, with 12 family-friendly attractions and yes, more than two million LEGO bricks.
With the vision of fostering creativity through play, there's no shortage of interactive exhibits that will do just that. Two rides, a 4-D movie theatre, creative workshops, factory tours - you'll be hard-pressed to get any kid out of there in under half a day.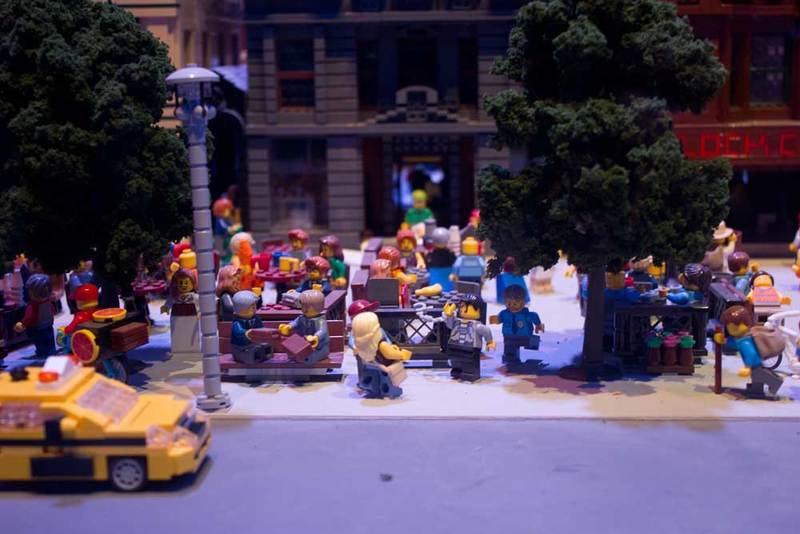 MINILAND is not to be missed, with a tiny Melbourne recreated in one room, including Flinders Street Station, Fed Square, the MCG (where you can play a mini game of pinball footy) and a fully-lit Melbourne Star Observation Wheel. Every time you turn around you see something new, and each section has buttons and toggles to press to make something in the installation move. Every few minutes the room's lights change from day to night, and the whole land glows with miniature lights and fireworks light up the walls.
The LEGO Friends area was a hit with my two girls (ages 6 and 4) and I could barely drag them out of there once they found out there were ponies to groom and dress. Each table has a well filled with LEGO Friends pieces and a small heart-shaped notepad with fun building ideas.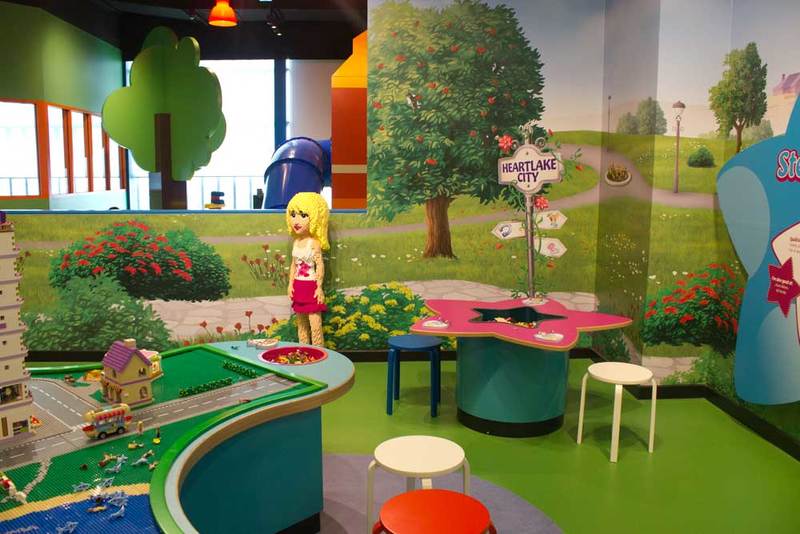 LEGO Racers Build and Test is for those who like to tinker with bits and pieces to make cool cars and trucks, and the racetracks are perfect for testing out creations. Who's car will still be in one piece after the jump?!
Test your building skills at the Earthquake Tables, which regularly shudder and shake and send most pieces crashing to the ground - which tower will be the tallest when it's all over?
For the hardcore LEGO lovers, there's a cool factory tour that shows you how the bricks are made (and you get a special piece to take home), and regular creative workshops where LEGOLAND's Master Model Builder (the best job in the world, or what?!!) can make literally anything - and can teach others to do the same.
Both the rides are probably best suited to the older crowd - Kingdom Quest is a fun mini-chariot ride through an enchanted land where a princess has been held captive and you need to battle the trolls and skeletons (pretty un-scary) with the on-board laser guns to help the King and Queen. Kids under 1.3m tall need to ride with an adult, and all riders need to be able to sit unaided.
Merlin's Apprentice is an aerial ride where you must pedal the magic chariot to help conjure the sorcerer's spell - the faster you pedal, the higher you go! No riders under 90cm, and riders between 90cm and 120cm must ride with an adult. LEGOLAND employees are usually available to ride with the small ones if a parent or carer can't.
Take a breather in the 4D cinema and catch either Legends of Chima or NEXO Knights: The Book of Creativity, with additional wind, rain and snow in the theatre to help put you right in the action! (thankfully the skunk cloud doesn't actually smell like skunk!). The LEGO 4D Movie will be added in the coming months, which will be awesome.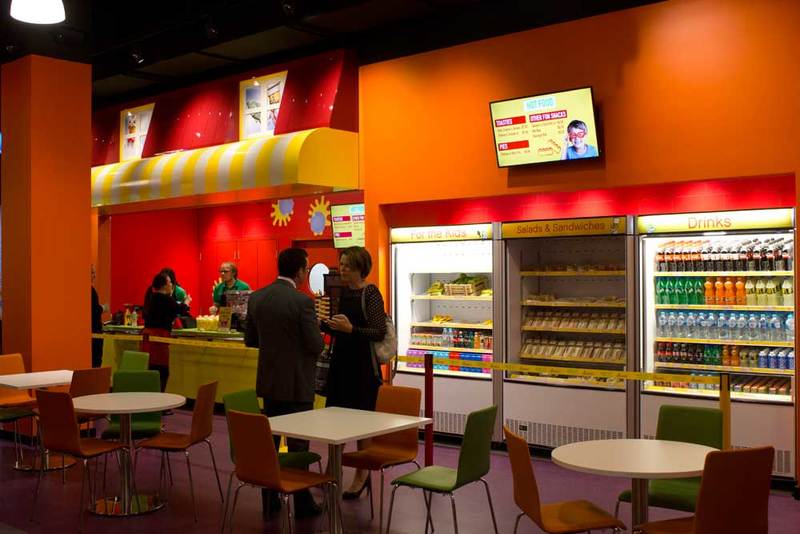 If you're hungry after all that cinematic adventure, there is a small cafe area selling sandwiches, pies, toasted sandwiches, juice, water, popcorn and other treats. You can grab a kids' lunchbox (pick and mix your favourites) that come in a very cool giant LEGO brick, or grab something from the menu. Seating looks pretty limited so bear that in mind.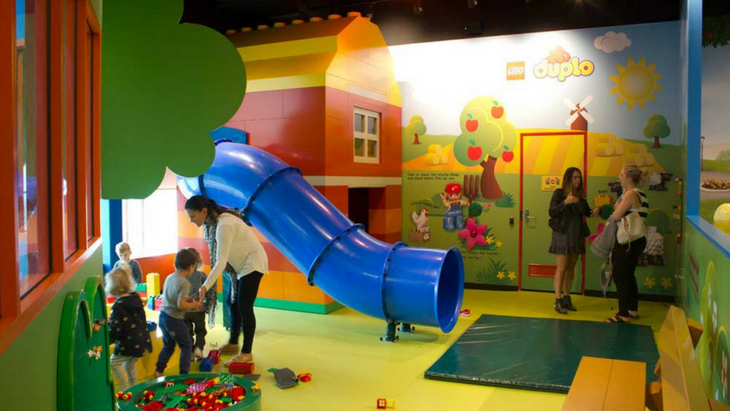 For the smaller folk (or the less LEGO-obsessed), there's the DUPLO Farm area perfect for toddlers that includes a fun cubby house and slide in addition to the bigger-sized LEGO bricks for smaller hands.This area is best for littlies 2-5 years old.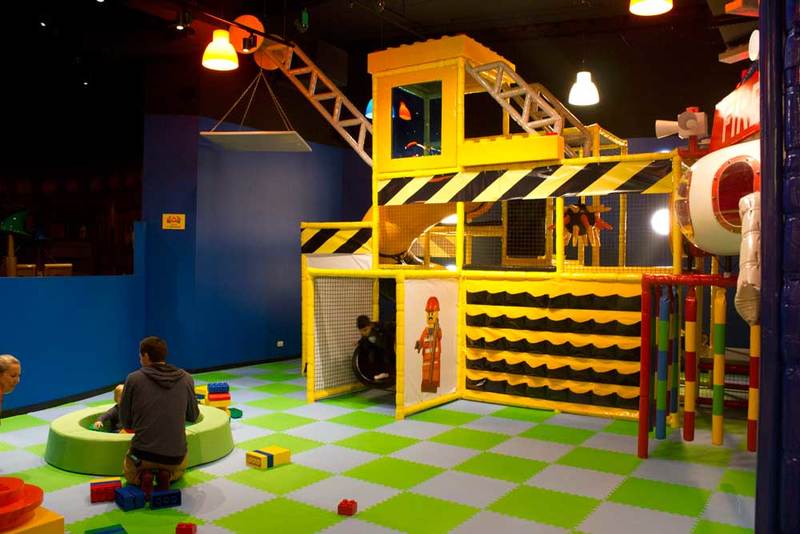 And to let off a bit of physical steam, grab your socks and head on in to the LEGO City Fire Academy soft play area with climbing walls, jungle gyms, fire house slide, and all the kids' favourites soft play things.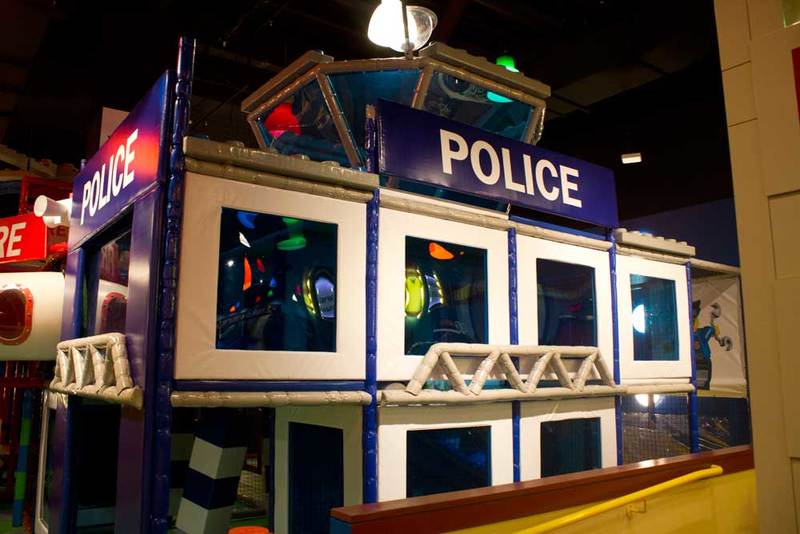 LEGOLAND will also host birthday parties, with 60 minutes for a standard package and 75 minutes for premium. Two hours in LEGOLAND either side of the birthday party is included in the price, and are recommended for ages 3-10. This also covers food, drink, lanyards, birthday crowns, downloadable invitations, and more.
And of course, be prepared to leave through the gift shop! Not always a clean getaway...
While LEGOLAND is still fairly new it's super-busy and often the days are booked out quite early. I'd recommend booking tickets a week or so before you want to go, and checking the website for session times. There are also annual passes on offer, which entitle you to discounts across the shop, cafe, and for birthday parties.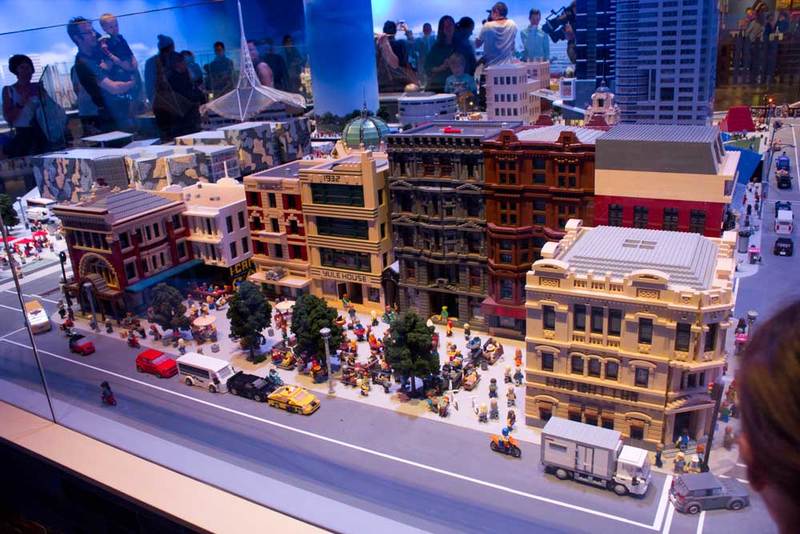 Groups of 10 or more are entitled to 20% off the regular admission price,saving $6.50 per person, All adults are required to be accompanied by an child (this is true for all visits, not just groups) and all children must be accompanied by an adult (3+), and it's requested you book two weeks in advance of the group's visit to guarantee entry.
A visit of 2-3 hours is recommended, and once inside, you may stay as long as you like during operating hours. No re-entry is allowed once you have left.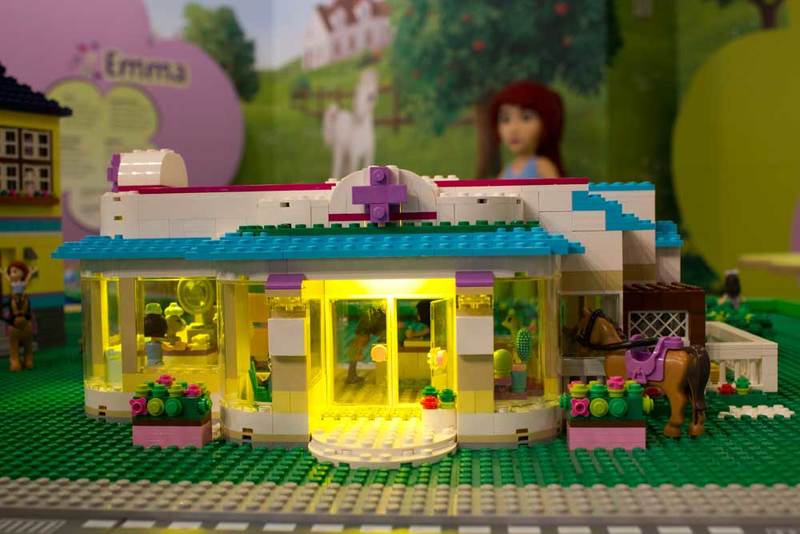 Admission times are 9.30am to 5.30pm Sunday - Wednesday, and 9.30am - 7pm Thursday, Friday, and Saturday.

Find out more info here.