Easy (And Good For You!) Valentine❜s Day Chocolates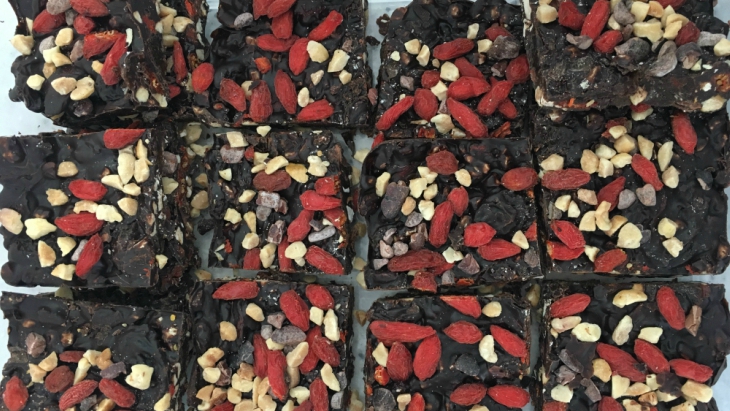 By Melissa Fine, ellaslist
These mix and make choccies are a hit with health foodies and non-health foodies alike. Taking just 10 minutes to whip up, this recipe is loaded with nutritious ingredients like high protein peanuts and antioxidant rich cacao and goji berries. Use 70% dark chocolate for an even healthier, lower sugar version of the recipe.
To whip these up, all you need is a bowl, a spoon and a silicon loaf or slice tin (a baking paper-lined tin will also do the trick). The kids will love helping out with these (and licking the spoon!).
Ingredients
120g Dark Cooking Chocolate (or 70% dark chocolate for a lower sugar version)
1 Tbsp Natural Peanut Butter* (look for Mayver's peanut butter in the health food aisle, or for a nut-free version, swap the peanut butter for hulled tahini)
1 tsp Honey
1/4 Cup Crushed, Dry-Roasted Peanuts* (find them in the baking aisle; you can omit these for a nut-free version)
1/4 Cup Raisins
1/4 Cup Goji berries
1/8 Cup Cacao Nibs (optional; note that these are quite bitter, so are more of an adult-appropriate ingredient)
Pinch of Salt
Method
Break the chocolate up into pieces and in a microwave-safe bowl, microwave on high for 1 minute; stir and microwave for another 30 seconds, or until the chocolate is fully melted. Alternatively, you can melt the chocolate using with the stovetop method.
Pour the chocolate into a medium-sized mixing bowl. Add the peanut butter and honey to the chocolate and mix until well combined. Add in the remaining ingredients, and stir until everything is evenly dispersed.
Pour the mixture into a silicon loaf tin (or lined baking tray), and sprinkle some extra peanuts, goji berries and cacao nibs on top. Cover and place in the fridge for 30 minutes, or until the chocolate has set.
If using a silicon mould the chocolate will pop out nicely as a slab. If you've used a lined baking tray, carefully lift the lined chocolate out from the tin, before peeling off the baking paper. Place onto a chopping board and cut into 8-12 squares (depending on how big you'd like them) and serve on a platter scattered with berries. If you're gifting these for Valentine's Day, they also look really pretty in a jar.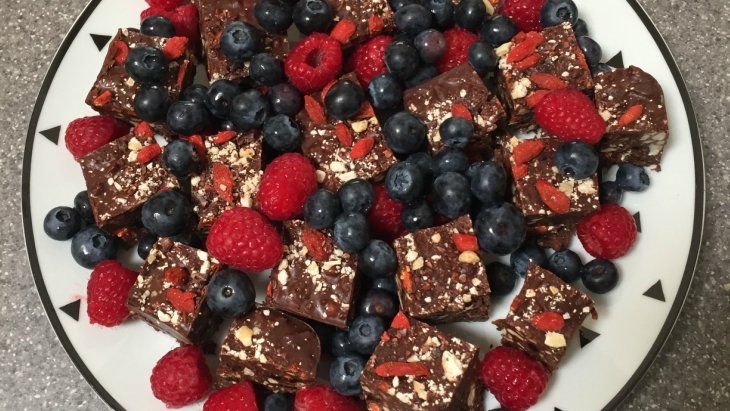 These will keep in the fridge for a couple of weeks, and they freeze well too - although we doubt you'll have any left over! Happy Valentine's Day from ellaslist, let us know if make these for someone special, or even just for yourself this V Day.
*For a nut-free version, substitute the peanut butter with Hulled Tahini, and omit the crushed peanuts.