Top 6 Board Games For Toddlers And Pre-Schoolers

Top 6 Board Games For Toddlers And Pre-Schoolers
Mums & Bubs
Toddlers
Preschoolers
Kids
It's no secret that at ellaslist, we're big fans of the good, old-fashioned board game. They're engaging, entertaining and create time and space for some screen-free family bonding—and we don't believe that toddlers or preschoolers should be left out of the fun.
The preschool years are a time of great cognitive, emotional and social development, and board games can encourage them to try new things and work on their interaction skills. Ultimately, when you're searching for a board game to play with toddlers and preschoolers, they need to be pretty simple, maybe a little bit silly and preferably brightly coloured. Here's our top 6.
Hi Ho Cherry-O

Image: Fatherly
Essentially a game of basket-filling fun, Hi Hi Cherry-O is one of the most simple games on the market, so it should be ideal to play with your little one. The aim is to gather cherries and other fruits and place them on the colour-corresponding tree. The pieces need to be placed in the trees carefully, so kids will have a chance to practice their motor skills, and it's not a long game—so their patience should last the distance!
Peeing Pup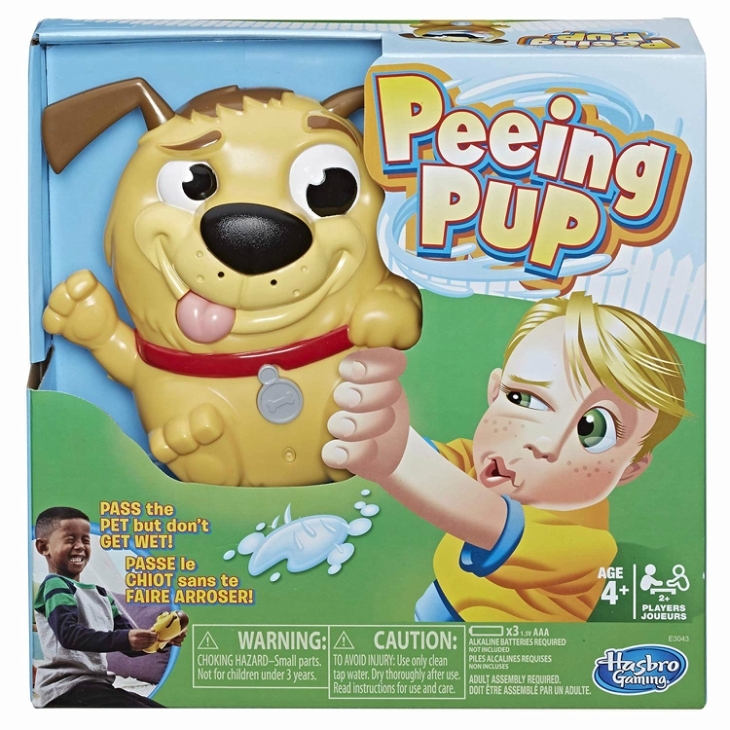 Little kids love toilet humour and this one has it in buckets! Peeing Pup is like a game of "hot potato" as kids take turns passing the pup and petting its head, and then when the puppy barks it's time to pass him to the next person. The little pup makes cute sounds with all this attention…but watch out! He loves to be petted but he just might pee. The only player not to get peed on by the pup wins! (Launching April 2019.)
Hungry Hungry Hippos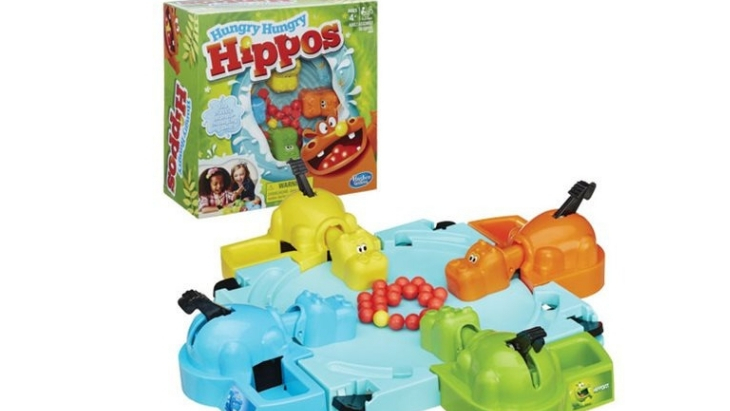 Image: Entertainment Earth
An iconic pick in any little game-players arsenal, the marble-gobbling Hasbro game, Hungry Hungry Hippos, promises endless amounts of fun for kids aged 4 and over. The Hungry Hungry Hippos are going on a feeding frenzy—so all players fill their marble grooves with five marbles, and then release them into play simultaneously. Start chomping, and don't stop till you've got the fattest, fullest hippo. The player with the most marbles when none are left in play wins!
Pop-Up Pirate

Image: Little Entertainer
A fun, engaging and much-less scary version of Pop Goes the Weasel, this board game for toddlers helps to develop fine motor skills as little ones place swords into a barrel in anticipation of seeing the pirate pop up out of nowhere! This game promises fun for the whole family.
Little Balancing Game

Image: Fatherly
A fun game for really little ones—the Little Balancing Game encourages communication between toddlers and their parents and carers. Small frogs are balancing on the waterlilies—and little players have to make sure that they don't fall into the pond!
It can also be customised to the dexterity of your child—meaning you can use more stilts and waterlilies as your child becomes more dexterous! If the players run out of stilts and lilies, a frog is placed on top to finish the tower. If all elements are placed and the towers still stand, each player receives a point.
Connect 4

Image: Target
Another great option for kids 4 and over, Connect 4 is essentially a strategy masterclass for young ones, and they'll get the chance to work on their dexterity and critical thinking skills! Drop your red or yellow discs in the grid and be the first to get 4 in a row to win. If your opponent is getting too close to 4 in a row, block them with your own disc.
Thanks to Hasbro: This article is brought to you in partnership with Hasbro Gaming, our Supporting Brand Partner for the Unplug & Play Initiative.

Looking For More Screen-Free Fun?
Have you signed up to our newsletter? Join ellaslist to get the best family and kid-friendly events, venues, classes and things to do NEAR YOU!
Reviews
Reviews get lonely too
Be awesome and write a review