The Good Fairies Birthday Parties: A Fairy For All Occasions
The Good Fairies Birthday Parties: A Fairy For All Occasions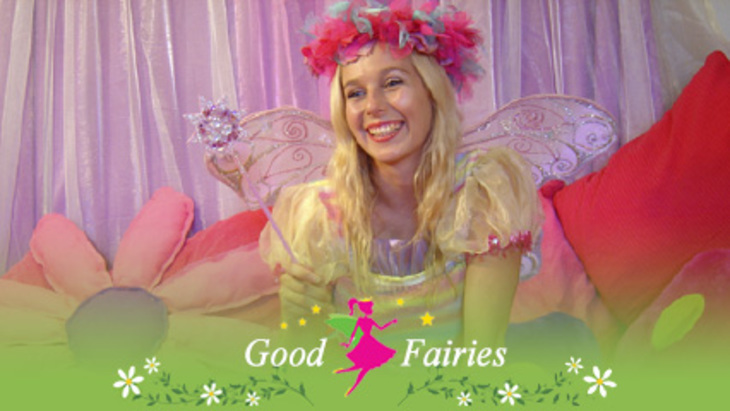 With over 27 years of experience, The Good Fairies are Sydney's original experts in children's birthday parties and family party entertainment.

We offer a variety of party and entertainment packages that are guaranteed to sprinkle some flawless magic over your next birthday party or special family event. Good Fairies will help you choose the perfect entertainer for the perfect party; can supply gorgeous kids catering items and give you simple theming ideas that won't cost the earth.

With the wave of a wand The Good Fairies are experts in taking away all your party planning stress. Our services include party styling, face painting, balloon bending, kids games and activity programs, and delicious kids catering. We will help you choose the party best for you, then sit back, relax and enjoy your day.

All of our packages include a fairy entertainer (or character of your choice), a gift for the birthday child, and a gift for each child inside a pass the parcel, games & prizes, craft activity, balloon sculpture for each child. All party packages also include a range of age appropriate activities and a magic fairy rug, bringing a little bit of fairyland to you.!

Good Fairies offer Sydney's most comprehensive Family events services and can personalise your Birthday, Christening or Wedding event for no extra charge. There's even a grown ups canapé and platter menu for Mums and Dads!

Good Fairies really is your "One Stop Fairy Shop" for Fairies, Princesses, Mermaids, Princesses and more.

Cost*
1 hour: $250+GST
1.5 hours: $300+GST
2 hours: $350+GST
*Parties are designed for 12 up to 20 children! For parties of 20+ each additional costs will incur.

Add on a variety of optional services including: the birthday cake, kids' picnic boxes, lolly bags, and a range of catering for parents.

Purchase any additional catering with a party package and receive a 10% discount.

PLUS! Check out our Deluxe High Tea Packages!.
Fabulous Fairy / Mermaid / Alice / Hawaiian Luau High Tea packages include everything! If you are looking for a party you can ALSO enjoy with the other mums and friends, consider our complete Deluxe Fairy High Tea Package. From just $35 per head the High Tea package provides a complete 2 hour party with a magical themed table setting, rug and cushion corner. This package is fully catered and includes lolly bags, invitations and complete set-up and clean-up of your party.

Offer – FREE Birthday Cake with any High Tea package booked.!

For more information or to book a party, send an email, visit the website, or call on 1300 4 FAIRIES (1300 432 474)
Tell them ellaslist sent you!
Reviews
Hi, had another party this year (Genie) for an 8 year old. Two girls dressed up as Genies. Excellent value, great interaction with the kids and went that extra mile. Very impressed and believe it is value for money.
Just to let you know that Mia and her friends had a fantastic time with the fairies last Saturday. They did an outstanding job and were very professional in what they did. I couldn't have thanked them more for making those little girls have the time of their life and seeing those gorgeous smiles on all of there faces. I will certainly have no hesitation in recommending you guys to all the parents at Mia's school and I'm sure that all the parents that were at the party will recommend you to all their family and friends. Great job guys - a perfect afternoon.
Kate, just a quick note to say thank you for such an amazing party! With 19 little girls and rain we couldn't have done it without you!!
Thank you! It was such a wonderful day. Several of the parents commented on how professional you and the pink princess were. And I think the measure of success is dependent largely on the response of the children, and they certainly had a good time. Ruby in particular was overjoyed and I am so proud of her behaviour throughout (was worried about a mini-tantrum here and there…) The layout of the high tea was just as I expected and depicted on the website. The assortment of food was ideal and I appreciate you accommodating Melissa with GF food (unfortunately I didn't think of her when it came to the birthday cake!) The games played were perfect and the pass-the-parcel prizes of good quality. I didn't expect the balloon art – what a fabulous surprise! Thanks once again, I will certainly be recommending your services to other friends.
Just letting you know that Fairy Alisha was absolutely fantastic!! She arrived on time, acquainted herself with April and did extremely well with the kids wearing her costume and make up under such hot conditions! Her face painting and balloon making skills are exemplary! My Best mate and his Wife have already taken one of your business cards so that they can book her for their Daughter's birthday! Annie and I were absolutely delighted with Alisha and can't praise her highly enough! We will book her again for another birthday party in the not too distant future. Once again, thanks very much for your services, and give Alisha a gold star and a bonus!
Just wanted to say a massive thank you for the wonderful fairies and fairy Godmother that came out on Sunday for Madi's party they were awesome the kids had a blast, and Madison is already arrange another one for next year! Thanks again.
We had the most fabulous time!!! Most important is that Madeline said it was the best party ever and she loved every single minute! Friends n family were complimenting me on your team and the concept of your business and the sensational service and quality! We just looovved Fairy Godmother Anita! She was fabulous and so so lovely! If time permitted I felt I could sit with her and chat for hours! She wouldn't accept any help insisting we kick back and leave her to it! She was even offering her help to me god love her! She was divine. Fairy Rainbow as she asked to be called was wonderful with the children and they all had a blast! She was enthusiastic and made the children feel special! I was so impressed with how gorgeous the table looked and the quality of thoughtfulness of every detail that was included in the package! The parse the parcel gifts were great (I was worried), Madeline's gift adorable! The lolly boxes were not cheap and yucky looking, all well thought of and great quality, the colours and table wear was awesome! Food- all the kiddy favourites when it came to the food was great, which I may add was ample in quantity!!! With a small container of leftovers for us to enjoy! I have never had anyone else cater for me so I was nervous about the food but as we watched on our children especially all the little girls who felt like they were in fairyland and loved sitting there like big girls on a fancy table being served their drinks in cute cups etc. Most of the mums commented on how fantastic your service and this package is as there was really absolutely not one thing I had to add for the children to complete Madeline's party! Love it ! Love it!
Fairy Ally (also known as Tinkerbell ) was amazing. Her demeanor suited our party as we had a few shy children, who were happy to take their time and get use to her before they went and got their face painted. So thank you for sending Fairy Ally and for making Charlotte's party so special. Thanks!
The Good Fairies are hard to top. They have given their time, staff, and resources FREE at a number of playgroup events I've been involved with over the years and do a lot of work in the community. All the fairies I've met are impeccable, quintissential fairies, their costumes and makeup amazing, and their attitude and conduct highly professional and absoultely magical! Highly recommended!
These wonderful Fairies are simply the best. For attention to detail and the most wonderful Fairy entertainers they are hard to beat! Highly recommended!!