6 Fun Ideas For Christmas Cooking with Kids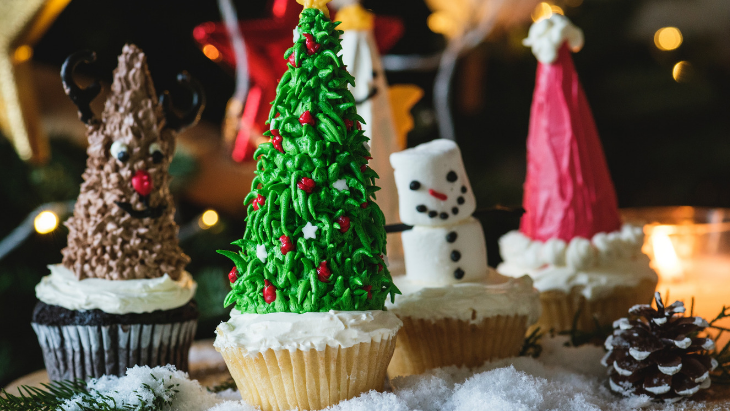 Get into the spirit of Christmas with the kids in the kitchen and whip up these super-family-friendly themed goodies for the most wonderful time of the year!
We've kept the recipes deliberately simple because we all have enough to do at Christmas, but still yum and a lot of fun for kids old and young. Aprons on!
1. Marshmallow Snowmen
One of the easiest Christmas recipes - all you need is a few bags of marshmallows and some pretzel sticks!
Decorate as traditional or wacky as you like, and pop them either on white-iced biscuits or cupcakes and get stuck in.
Icing pens with thin nibs are perfect for making eyes and buttons, or to stick on larger items. Licorice allsorts can be cut into cute hats for the top of your snowman's head.

2. Peppermint Chocolate Truffles
In keeping with the theme of little helping hands, these chocolate truffles only require mixing and rolling so are perfect for kids.
The best bit about these chocolate truffles is that they are positively delicious and fantastic with a drink after dinner for the grown ups, or packaged up into pretty jars with a bit of ribbon for Christmas gifts.
Ingredients
100g milk cooking chocolate, chopped
100g dark cooking chocolate, chopped
100ml thickened cream
1/2 teaspoon peppermint extract
Your choice of coating - cocoa powder, icing sugar, melted chocolate, coconut, crushed biscuits, edible glitter, christmas-coloured 100s and 1000s
Directions:
In a small saucepan, heat the thickened cream until warm.
Add the chopped chocolates and peppermint extract and stir over low heat until melted and thick.
Pour into a small mixing bowl and cover. Place in the fridge to harden, about 1 hour.
When the mixture has cooled and set into a solid, spoon out into tablespoon-sized pieces (working quickly), and roll into balls.
Roll quickly in your choice of coating (or dip into melted chocolate) and place on a lined tray
Pop tray back into the fridge to keep cool. Keep in an airtight container or package up into jars to give away.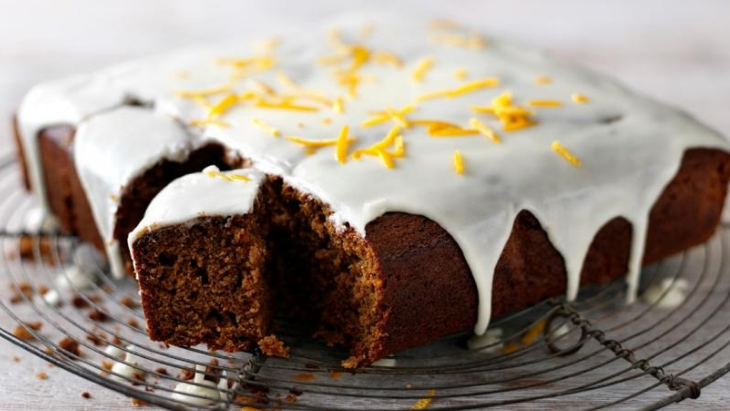 3. Gingerbread
Sure you could make gingerbread men or gingerbread christmas shapes this time of year, but you're making decorated sugar cookies (see below), so why not get the spicy taste of christmas in soft cake form instead?
This is delicious iced with a spiced-orange icing (add orange juice and zest and a dash of cinnamon and clove to your favourite icing recipe), and you can grab an assortment of fun festive toppings for the kids to decorate. Why not make a winter wonderland scene? Or go nuts with red-and-green sprinkles, lollies, or fondant shapes.
Ingredients
225g butter, softened
225g brown sugar
225g golden syrup
225g treacle (if you have no treacle, you can use more golden syrup, or honey)
450g self-raising flour
2 tablespoons ground ginger
2 teaspoons Allspice, or one teaspoon each of cinnamon and clove
1 pinch salt
2 large eggs
300ml milk
Directions
Preheat oven to 180C.
Grease and flour a 23cm cake tin (springform is the easiest to use where the cakes don't often stick!)
In a large bowl, mix the flour, ginger, allspice (or cinnamon and clove) and salt.
In a small saucepan, melt the butter, sugar, golden syrup and treacle until sugar has dissolved. Stir frequently.
Add the butter mixture to the flour mixture and mix gently.
Beat in the eggs and milk until the mixture is thick and and all the elements are incorporated.
Pour the batter out into your greased and floured tin.
Bake 40-50 minutes until the cake springs back gently when the top is pressed, and a skewer inserted in the middle comes out clean.
Leave to cool 10 minutes in the tin before transferring to a wire rack to cool completely.
When fully cooled, ice as you like!
Adapted from here.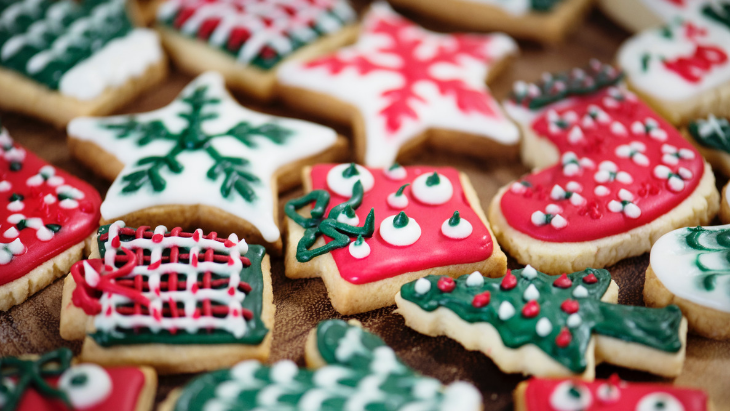 4. Decorated Sugar Cookies
This is really where kid creativity shines! Grab yourself a pack of writing icing pens, shiny silver cachous, crushed-up candy canes, coloured frosting, or any other cheerful Christmas-themed decorating goodies that catch your eye. Spotlight and catering stores have great selections, and even supermarkets have more than enough for you to get busy with. These are perfect for leaving out on Christmas night for Santa - coupled with Santa's favourite tipple - be that a nip of gin, a beer or even the new pavlova flavoured milk by Dairy Farmers Creamery & Co!
Ingredients
100g butter, softened
1 cup caster sugar
1 large egg
1 teaspoon vanilla extract
2 cups plain flour
1/4 teaspoon baking powder
1 pinch salt
Directions
In a large bowl, cream butter and sugar.
Add egg and vanilla and mix until fully incorporated.
Stir the baking powder and salt into the flour, then add to the egg/sugar/butter and mix gently.
When it has all come together, and pat into a flat disc on a plate. Cover with a tea towel and put it in the fridge for 30 minutes or so, until fairly firm – you want it to roll without being sticky and soft, but also not too hard.
When dough is ready, roll fairly thin (about half a centimetre is usually more than enough) on a well-floured surface, and cut into Christmas shapes. We love candy canes, bells, Christmas trees, stars and Santa hats.
Place on cookie trays.
Bake at 160-180C for 10-15 minutes, checking after 10 mins. You don't want them to brown too much on the edges (or all the way through if they're super-thin).
Cool on wire racks and decorate as you wish!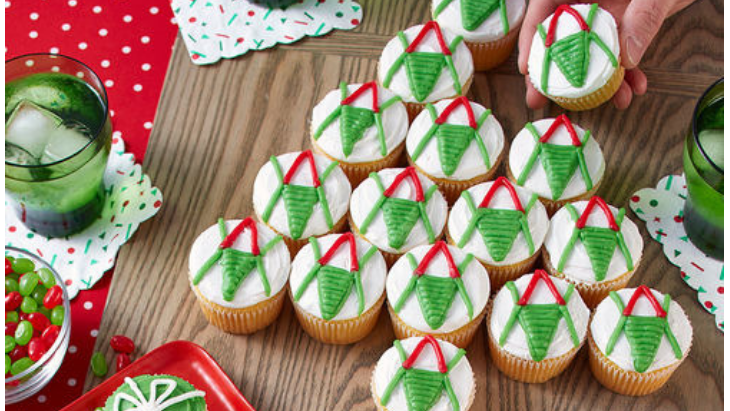 5. Pull-Apart Cupcake Christmas Tree
This is one for all of you who feel decorating cupcakes is not your strong suit!
Each cupcake is decorated with green frosting, before being arranged in the triangular shape of a Cristmas tree. You could even frost between two and four cupcakes with brown frosting to represent the pot, or do every third cupcake a different colour to represent tree lights or decorations.
Add your edible baubles as you wish to represent a decorated tree, and then let people deconstruct your (super-easily-yet) carefully constructed Christmas tree!
Ingredients
225g unsalted butter, softened
225g caster sugar
225g self raising flour
1 tsp baking powder
4 eggs
1 teaspoon vanilla extract
Directions
Preheat oven to 180C.
Set out 24 cupcake wrappers in your cupcake tins.
In a large bowl, beat the butter and sugar until light and fluffy.
Add vanilla and eggs, one at a time. Beat well after each addition.
Mix in the self-raising flour and baking powder until thoroughly combined.
Spoon into cupcake wrappers, using the mix evenly.
Bake 12-15 minutes until risen and light golden brown. Cakes should spring back lightly when touched
Cool on a wire rack before icing and decorating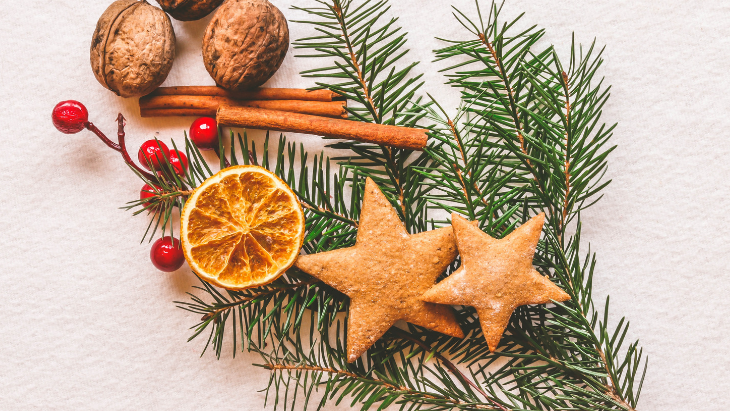 6. Cheesy Stars
One for the savoury-toothed among us (my hand is firmly raised) - a very simple but delicious rosemary-flecked cheesy dough is rolled into festive shapes and baked. Perfect for parties, drink nibbles, gifts, or for scarfing, alone in the pantry.
Ingredients
100g cold unsalted butter
100g plain flour, plus extra
1/2 teaspoon salt
pinch cayenne pepper
1 heaped tsp sharp English mustard (or Dijon is nice if you prefer less of a kick)
1 tablespoon finely chopped fresh rosemary (dried isn't quite the same in this recipe but still good!)
100g finely grated parmesan
Directions
Preheat oven to 180C.
Prepare two large baking trays with baking paper or Silpat mats
In a large bowl, rub the butter into the flour, salt and cayenne until it resembles breadcrumbs.
Mix in the cayenne, mustard, rosemary and cheese and really start to squeeze it together until it forms a dough. You can add water, a tablespoon at a time, if it's not coming together smoothly
Cover and chill for 30 minutes to an hour - you want it fairly firm but still able to be rolled out.
Roll the cheesy dough out onto a floured surface until it is about half a centimetre thick.
Cut out with a star-shaped cutter and place the stars on the lined baking trays.
Gently bring the dough offcuts together and pat out to make another round. Don't knead it at all or roll it too much or the biscuits won't turn out as well.
Cut out as many stars as you can with the rest of the dough and add them to the baking trays. You may need to bake these in batches.
Bake 10 minutes or so until golden brown - don't let them get too dark
Leave to cool on trays if possible for as long as you can before transferring to a wire rack to cool completely.
Bon appetit!
Looking For More Christmas Fun?
Make Your Own Gifts In A Jar This Christmas
Best Christmas Day Lunches in Melbourne
What's Open in Melbourne on Christmas Day
Have you signed up to our newsletter? Join ellaslist to get the best family and kid-friendly events, venues, classes and things to do NEAR YOU!